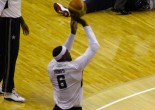 Planet Vehicle was on hand for the USA / Brazil Basketball Game. In attendance was President & Mrs. Obama, their daughter Malia, Vice President Joe Biden, and Cupid[slideshow]
July 18, 2012

http://youtu.be/lupS_1QYCOk?hd=1
Planet Vehicle's Alvin Jones talks with 2008 & 2012 USA Basketball Olympian Chris Paul at Jeep's Experience the Power Event in Washngton, DC.
Planet Vehicle, a reality show about automobiles, has marked its debut into television with a strategic partnership with News Channel 8 in Washington, DC. The half hour television program now airs Saturdays at 2 PM available to 1.5 million households.
Planet Vehicle is hosted by Alvin Jones, a broadcasting veteran with over 30 years of experience as a producer and talent. He's serves as president emeritus of the Washington Automotive Press Association.
Jones started his career as the host of the number one rated "The Quiet Storm" on WHUR-FM, the show's original home. He has also hosted "The Slow Jam" on WKYS-FM and also cooled you out while behind the microphone at "Smooth Jazz 105.9" all in Washington, D.C.
Known for his passion for cutting edge innovation, Alvin helped develop cable network Black Entertainment Television (BET) as a powerhouse for the music video genre. Alvin, aka "The Unseen VJ,"® hosted and produced music video programs "Video Vibrations," "Softnotes," and "Midnight Love." He also created BET's popular "Rap City."
Alvin became a talk show host on XM Satellite Radio channel "The Power"with the show "T.M.I., Too Much Information." The next stop was to C-SPAN as producer for "Book TV."
His two companies, Alvin Jones Communications and Aye Jay Productions provide video production, web casting, sound reinforcement, public relations, music services, and event production solutions for its clients. Projects include coverage of the NAACP Image Awards and the Grammys for MSN.com and Cannes Film Festival segments for the TV Guide Channel.
Giving back has always been a sense of pride for Alvin. Volunteering is his method of connecting with his audience and friends. Always with a message, Alvin Jones is highly requested as a public speaker.
July 16, 2012

To Justin Bieber, It's Hard to Be Incognito in a Silver Sports Car!
Justin Bieber's Chrome Fisker Karma made him an easy target for the paparazzi. A pink Cadillac would have been less obvious.
July 11, 2012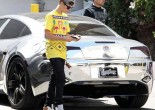 Justin Bieber's Runs from Paparazzi in his Fisker
Pop star Justin Bieber took to outrunning his paparazzi posse. He was pulled over and received a speedy ticket. The teen singing sensation called a 911 dispatcher that photographers were again pursuing him recklessly on a Los Angeles freeway.
July 11, 2012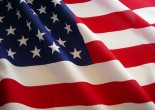 http://youtu.be/QlD_gqG7bpo?hd=1
Please enjoy video of fireworks on the National Mall. The United States of America, 236 years old and looking good!
July 4, 2012